VIESA White Cover | Cover for VIESA Kompressor III
|
Customer review 8.4/10

The lowest price on the internet!

Accessible by chat, WhatsApp and phone (+31 (0) 413 222 179)
Information
About the VIESA White Cover
The VIESA White Cover is the ideal replacement cover for the VIESA Kompressor III! 
The White cover can be fitted over the standard air conditioner even after fitting the VIESA Kompressor III. The cover is made of strong material and is lightweight. The cover has a standard white colour and is smoothly finished. This means that the VIESA white cover can easily be painted in any colour you want. 
Advantages of VIESA White Cover
The VIESA White Cover has several advantages:
The White Cover is easy to assemble.
The cover can be painted in any colour.
The White Cover is made of very strong materials.
VIESA White Cover painted
Refinishing a VIESA White Cover is an easy job. Below you can see the result from one of our customers. By refinishing the White Cover, his entire truck is now in the same colour.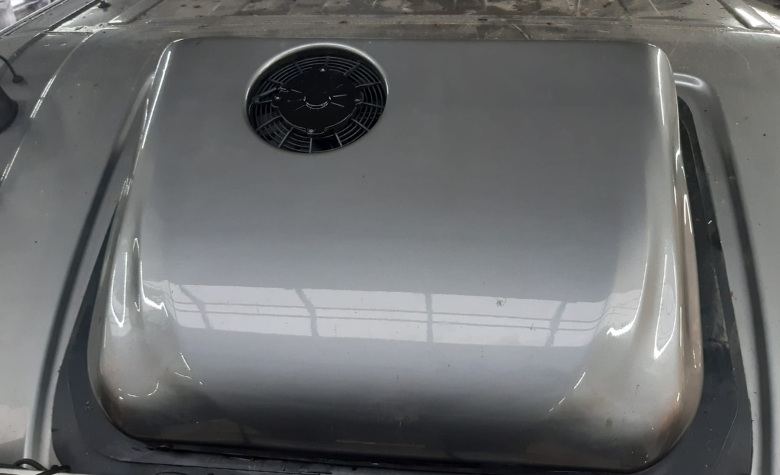 About the VIESA Kompressor III
The VIESA Kompressor III offers a quiet and cool environment during resting hours. The low electric consumption allow use for a long time when stopped, with an excellent acoustic comfort due to use of innovative materials that guarantee limited weight and low vibrations.
Other than previous models does this new VIESA come with a new shell, new essential parts and new electronics. The VIESA Kompressor III has got a small amount of separate components, only 39 which results in maximum reliability. The Kompressor III was designed to permit full free space inside: the mounting kit is perfectly integrated in the roof of the cabin of each specific brand and model.
It'ss approved for electromagnetic compatibility (ECE R10) which means no interference with radio. The new shell, made of polypropylene, offers several advantages: minimal weight, low noise and minimal turbulence due to aerodynamic studies. With its size it really distinct itself from the competition.
Advantages 
The VIESA can be mounted at an angle because of a special compressor inside.
The VIESA doesn't use any interior space, unlike most competitors.
The shell is made of polypropylene. This makes it very quiet in operation and absorbs vibrations.
The Kompressor has a build-in security for reaching a too low battery voltage and a freezing security for reaching to low temperatures.
Wasting fuel is no longer necessary as these stationary coolers work on electric power only. No need to keep the diesel engine running at night